It's difficult to categorize a new film made by the Coen brothers as one of their best. It's powerful, hilarious and daring, but does it even matter? This calling of praise is a "been there, done that" scenario for Joel and Ethan Coen and the fact that they've surpassed their impressive peak kind of degrades the whole classification. Or does it? Perhaps their 'just good' films are now more inferior in comparison.
A Serious Man
, the latest Coen project and their most personal one yet, continues the journey of brave new non-genre-specific directions for the brother team. There was a time when
Fargo
was considered their best, or non-fans would say
The Big Lebowski
was their most entertaining, or critics would reflect on
Blood Simple
or
Barton Fink
as worthy of high recognition, and their big Oscar triumph for 2007's
No Country for Old Men
got recognized as an opus.
The Big Lebowski
has enjoyed a healthy afterlife as a cult classic for wannabe lowlifes and remnants of an abandoned counter-culture, but it amounts to little more of mishmash of inspired ideas (with very good rewatch value!). If
No Country
was the career zenith after 25 years of a filmmaking zeitgeist, what does it say if
A Serious Man
is an even better, more profound and lingering work?
A Serious Man

A Serious Man, an offbeat, indirect spinoff of the story of Job, isn't explicitly personal. The Coens' father made his living as an economic professor, whereas Larry Gopnik (played by the outstanding unknown Michael Stuhlbarg) teaches college physics. Word is that Larry's daughter mirrors the Coens' sister, who later became a doctor and moved to Israel. But beyond that, Gopnik's troubles as a married Jewish man in a 1967 Jew-centric Midwestern town are relatable and ordinary in all except their frequency. The trailer for A Serious Man is set to the sound of someone pounding Larry's head against a blackboard as the obstacles of middle-class living are rhythmically thrust upon us. His wife wants a divorce, he gets into a car accident, his chances of acquiring tenure are diminishing and a series of anonymous letters sent to his university denigrate him.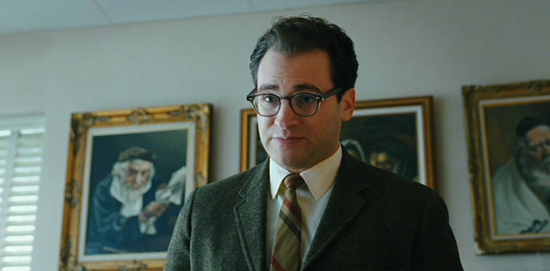 Larry's issues at home and at work are exacerbated by his inability to deal with them. The narrative is broken down into three subtitled acts corresponding to three rabbis Larry turns to for an enlightened perspective. The Coens, however, are more enlightened because they know that a serious man's efforts to prevent what is happening to him are futile and irrevocable. Woody Allen comes to mind when examining how the film juggles comedy and tragedy. It ultimately leans toward the latter - with a softened landing. The ending is abrupt and curious even when compared to No Country for Old Men, but it certainly sticks with you once you figure out what little you were meant to understand. The Coens, like omniscient clouds, once again cast a shadow over viewers, intimidating, confusing and mocking them. And, being the remarkably skilled filmmakers that they are, they get away with it.

BEST COEN
Blood Simple
Barton Fink
No Country for Old Men
Fargo
The Hudsucker Proxy

GOOD COEN
Miller's Crossing
The Big Lebowski
Raising Arizona
Burn After Reading
Intolerable Cruelty

THE REST
O Brother, Where Art Thou?
The Man Who Wasn't There
The Ladykillers