British singer Morrissey, formerly of The Smiths, collapsed during a concert on Saturday and was hospitalized. He is now resting at home.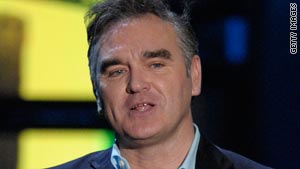 No further information regarding the reason for the collapse was released.
Morrissey collapsed during a show in England. Accounts from fans in attendance say it happened during the first song. Entertainment Weekly reported he had difficulty breathing while onstage.
The singer canceled several upcoming concerts as a result of the hospitalization.
- Via
CNN
and
Entertainment Weekly