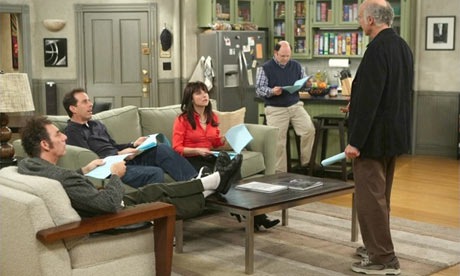 Season-long arc:
The Seinfeld Reunion. Larry attempts to win back his estranged spouse Cheryl by going to work on a Seinfeld reunion and casting her in the role of George's ex-wife.
Best:
"The Table Read," "The Reunion," "Funkhouser's Crazy Sister"
Worst:
"The Hot Towel," "The Black Swan"
# of subplots related to tipping:
4. (If counting Rosie and LD's dispute over who's covering a check for lunch, then 5.)
Underused supporting regulars:
Richard Lewis, Wanda Sykes and Shelley Berman (as Nat David).
Overused supporting regulars:
Bob Einstein (as Marty Funkhouser) and Susie Essman.
LD at his most outrageous:
Pulling down his pants at Jeff's house in front of a police officer, Jeff and Susie, in order to reveal he is wearing skimpy women's underwear and thus exonerating Jeff of blame. Susie had previously found women's underwear in Jeff's car glove compartment, which he unusually pinned on Larry.
Most overstuffed episode:
"The Bare Midriff" A gory '60s flashback that was better suited to the cutting room floor for Mad Men. Director Larry Charles managed to squeeze his Atheist leanings into a bit about splashing urine.
Episode that most closely resembled a 'Seinfeld' narrative:
"The Reunion"
Best episode ending:
LD gripping onto his assistant's protuberant belly as he hangs off the roof of a building in "The Bare Midriff."
Best race-related gag:
Michael Richards' outburst on a studio back lot, shouting on Leon for impersonating a Jewish accountant offering advice on Groat's Disease in "The Table Read." A crowd gathers and they record it on their cameras and cell phones – the event parodying Richard's real-life racist explosion in a comedy club three years ago.
Runner-up:
LD, Leon and Loretta argue about the house's temperature. Leon likes it at 82; LD in the 60s. A hilarious observation.
Strangest celebrity cameo:
Christian Slater
Member of the Seinfeld Four with the funniest improv-ing:
Jerry Seinfeld. His eloquent delivery, zingy banter and overall affability made him the nice guy, white collar counterpart to LD, the dirty-work engineer of social unconvention.
Most active director:
Larry Charles, former Seinfeld writer and director of Borat, Bruno and Religulous, with three episodes. The bearded gent took over for Robert B. Weide, a former regular Curb director who left the show at the end of last season.
The season's most completely far-fetched scenario:
The scene in which LD's bare-midriffed assistant and her mother hear a noise around the back of an office building. They run to check it out, bumping into LD who is urinating on the wall (because the building is locked). The splashiness of his actions immediately alerts the assistant of a horrifying relevation: LD desecrates the Jesus painting in their bathroom; Jesus was not crying. The assistant's mother runs to the roof to attempt suicide. ("The Bare Midriff")
Master of the writer's domain:
Larry David
NOTE:
How incredibly meta would it have been if the Seinfeld reunion revolved around Jerry and George's twice-failed sitcom idea?
The season finale airs this Sunday at 9 p.m. on HBO.