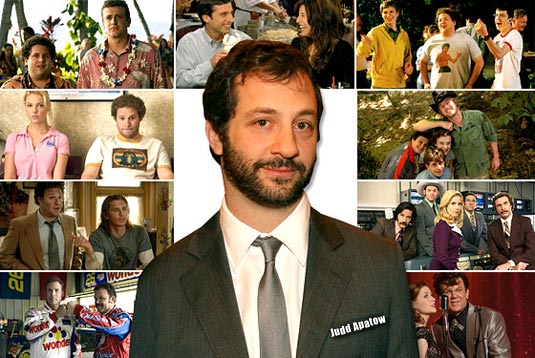 We fancy Judd Apatow here, and it's not a bandwagon kind of love in which we find a few a recent films "funny." We respect him as a writer-director-comedian who elicits trust and uninhibited chemistry and comic timing from his cast of cronies. In honor of today's release of his third feature-length flick Funny People (about comedians dealing with their own mortality), let's take a look at the highlights of his career before he made short-lived shows-turned-cult-delicacies Freaks and Geeks and, to a lesser extent, Undeclared.
Since he made his directorial debut, Apatow's resume has been plastered across TV commercials and movie trailers even when he received merely a producer's credit. His voice was still detectable in the '90s comedy world when very few knew who the hell he was. He helped discover Jay Baruchel and Amy Poehler and served as a shepherd for Jonah Hill, Jason Segel and obviously Seth Rogen's careers.
Will Apatow someday reach the heights of James L. Brooks and Cameron Crowe, two indelible sources of inspiration for him to date? He can try to go the route of these gentlemen, but for right now, he can do no harm cementing his current Hollywood status and artistic style. He's far surpassed the limits of his career's slow start, which portended a grim forecast in comparison.
The Ben Stiller Show (co-creator, executive producer)
This sketch show without a laugh track or studio audience aired before its time – or maybe before the concepts were developed enough to be filmed. Either way, it lasted no more than 12 episodes on FOX.
Heavyweights (co-writer, executive producer)
The 1995 Disney comedy about a fat camp run by a tyrannical health freak Tony Perkis, played by Ben Stiller, is revered by its fans, which are not the typical kiddy moviegoers. Stiller later conjured a variation of this character for his antagonist role in
Dodgeball: An Underdog Story
.
The Cable Guy (producer)
Audiences, critics, the blind and the deaf – not many really cared for this Stiller-directed black comedy starring Jim Carrey and Matthew Broderick from 1996. But Judd would likely recall it as a better time in his life since it was on the set that he met and eventually wed actress Leslie Mann.
Celtic Pride (writer, executive producer)
Though
Celtic Pride
was another dark comedy that few people saw, Apatow at least worked on what interested him even when struggling to make a hit. Dan Aykroyd and Daniel Stern, a duo starring together a decade too late but perhaps that was the point. These middle-aged diehard fans kidnap the Utah Jazz shooting guard to help the Celtics win a game. Apatow co-wrote the story with comedian Colin Quinn but penned the screenplay by himself, so I guess only he can be blamed, but it's really not that bad.
ALSO
The Larry Sanders Show
(writer, co-executive producer)
The Critic
(consulting producer)